What is Artificial Intelligence?
Artificial Intelligence also some people called Machine Intelligence and Machine learning means the computers learning that's the intelligence demonstrated by machines. It refers to the simulation of human intelligence in machines that are programmed to think like humans and mimic their actions. The term may also be applied to any machine that exhibits traits associated with a human mind such as learning and problem-solving.
Why Artificial Intelligence?
Today many big companies such as Apple, Google, IBM, and Microsoft to name a few are working for Artificial Intelligence. The applications for artificial intelligence are absolutely being endless. Technology can be applied to many different sectors and industries. The main thing is AI has great contribution in the healthcare industry for dosing drugs and different types of test medical test and treatment in patients, and for surgical procedures in the operating room.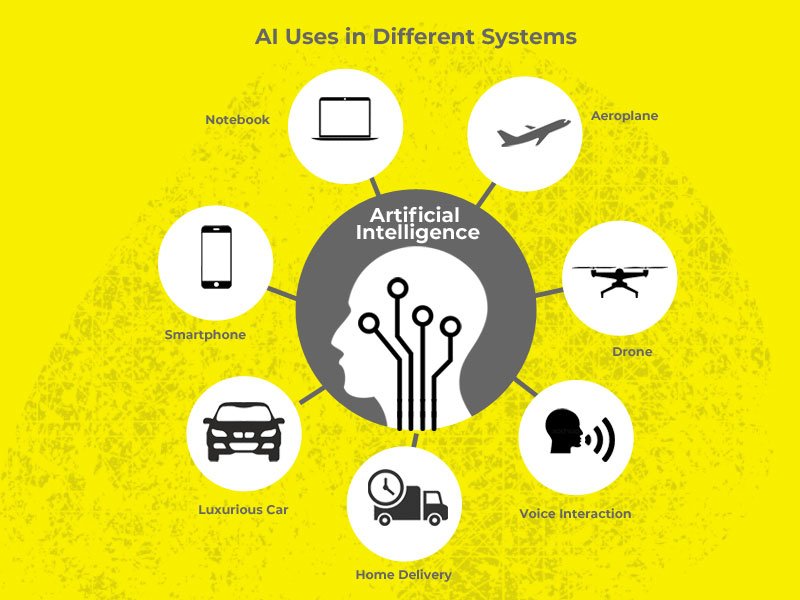 Machine learning or perception deals with the capability to use sensory inputs to deduce the different aspects of the world, while computer vision is the power to analyze visual inputs with few sub-problems such as facial detection, object and gesture recognition. Robotics is also a major field related to AI. Robots require intelligence to handle tasks such as object manipulation and navigation, along with sub-problems of localization, motion planning and mapping.
60% Rise in Demand in the market for Artificial Intelligence and Machine Learning experts in 2018 report as per Kelly OCG.
76% of renowned Indian Companies working for it. The technology is totally new that's why feel the shortage of skilled professionals is slowing down their adoption of Artificial Intelligence report as per Intel/IDC.
Targeted $16 Billion Dollar is the estimated size of Machine Learning sector in India by 2025.
There are some special AI Solutions going in the market with the following:
Siri
Siri is the latest AI solution offered by Apple. A virtual assistant, that features introduced in iPhone and iPad. Inside gadgets, you will get friendly female voice-activated assistant interacts with the user on a daily routine and assists to find information, get directions, send messages, helps in searching something, making voice calls etc. It uses machine-learning technology in order to get smarter and capable-to-understand natural language questions and requests.
Nest (Google)
Nest is a brand and AI solution of Google. That's used to market for smart home products, such as thermostats, smoke detectors, and security systems including smart doorbells and smart locks etc. Nest was one of the most famous and successful artificial intelligence startups. The Nest AI learning Thermostat which uses behavioral algorithms to save energy based on your behavior and schedule.
That also employs a very intelligent machine learning process on the temperature control you like and programs itself for a week. The great thing is, that will turn off to save energy automatically, if nobody is at home.
Tesla
Tesla has become a household name as a leader and pioneer in the electric vehicle market, but it also manufactures and sells advanced battery and solar panel technology. This is one of the best automobiles available until now in Greek. The car has not only been able to achieve many accolades but also features like self-driving, predictive capabilities, and absolute technological innovation. The car is getting smarter day by day through over the air updates. The AI technology that Tesla was creating, its current AI driven by a partnership with hardware manufacturer Nvidia is largely based on an unsupervised learning model of machine learning report as per Forbes.
Cogito
Cogito originally co-founded by Dr. Sandy and Joshua a Boston based software startup. Cogito machine learning is working for Artificial Intelligence, Behavioral Science, Call Center Intelligence, Customer Experience, Emotional Intelligence, Industry News, and Emotional Intelligence.
Cogito the best minds in behavioral science and enterprise technology have come together to create an artificial intelligence solution that analyzes the human voice and provides real-time guidance to enhance behavior.
Netflix
As we all know about Netflix a giant of video and film streaming services in the world. But this is also uses AI or machine learning and data science from a product perspective. Mainly Netflix provide content-on-demand service that uses predictive technology to offer recommendations on the basis of consumers' reaction, interests, choices, and behavior. The technology examines from a number of records to recommend movies based on your previous liking and reactions.
Movie recommendations is the problem is that Netflix has a huge collection of content over millions of different products, according to Netflix which is constantly changing and can be overwhelming for a user to consume. User should not frustrate in finding content relevant to their interests.
Pandora
Pandora is also another highly Artificial Intelligence solution used for technology solutions. Pandora AI is famous for music mantra and also called the DNA of music. Pandora AI depending on around 400 musical characteristics, there is some team of expert musicians working for and individually analyzes the song. This is also good at recommending the track record for recommending songs that would never get noticed. So basically this system is more benefited who is fond of music actually.
Boxever
Boxever is a market leading personalization platform that uses data and AI to make every customer interaction smarter. A machine learning to enhance the customer experience in the travel industry and conveys micro-moments or experiences such as their reviews, feedbacks and reactions which is very helpful to the users.
Boxever machine learning algorithms is to select tailored email offerings to send to customers, based on their profile accordingly. Suppose, if any customer doesn't respond to a certain type of offer, Boxever AI will make alternative suggestions for that in future customer interactions.
More so, suppose if an airline knows a business traveler typically books the 5:00 a.m. flight from Washington to Dubai or prefers a specific coffee order in the business class lounge, there Boxever can work smartly and fit the customer's needs.
Alexa Echo
Amazon Alexa AI Solution, known simply as Alexa. This is a virtual assistant developed by Amazon. It works smartly in this way such as in capable of voice interaction, music playback, making to-do lists, setting alarms, streaming podcasts, providing weather, playing audiobooks, real-time information and road traffic reports. Amazon is making it easy for all the devices to work together across the board. This is an emerging market, and the future is full of potential. You will begin to see other product manufacturers integrating smart home technology into their products.
Flying Drones
This AI is used in different way such as shipping products to customers home. Flying Drone can translate the environment into a 3D model through sensors and video cameras which is a strong feature and solution in this Machine Learning. Sensors and cameras are also able to notice the position, angle and direction of the drones if it is in the in the room or around. Drones can be used in specific purposes such as product delivery, video-making, secret information collecting, or news reporting.
Conclusions
So however, Artificial Intelligence has the potential to become more intelligent than any human. Now these days every industry has a high demand for Machine Learning capabilities in various fields such as healthcare, retail and marketing, FMCG and manufacturing, banking etc. In near future most of the companies will get more benefits of AI. This is not here to replace us. Its augments our abilities and makes us better and brilliant at our place.
.
In this mobile app revolution age, most of the companies already started to add AI solution to make the app more rich and sensitive as product in the competitive market. UXD Media is also going in this race to achieve a prominent position in machine learning. It's an extending universal connections Mobile App Development Company.
By Editorial Team,
UXD Media
Date: 08/08/19