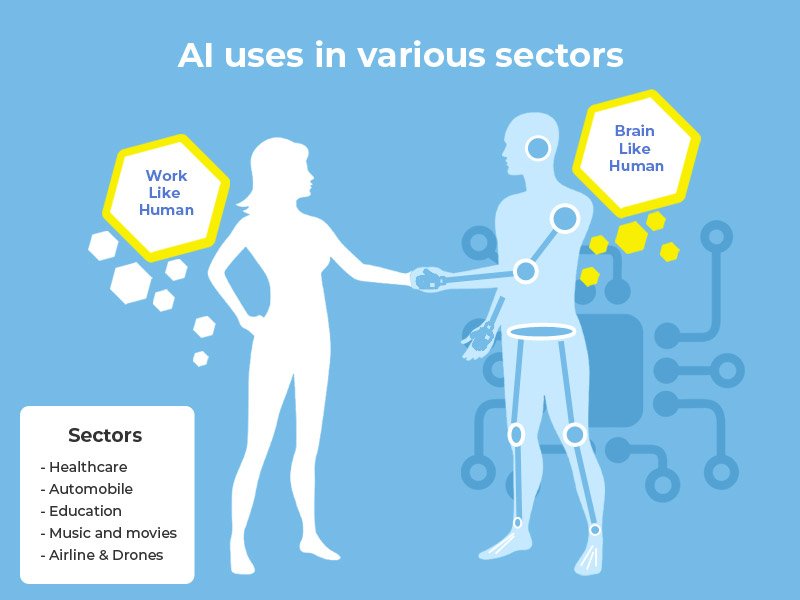 1. What is AI
Artificial Intelligence (AI) is the proficiency of a computer program or a machine that is to learn or think. The main concept of Artificial Intelligence is based on the idea of building or generating machines such as capable of thinking, acting, and learning like humans. Artificial Intelligence is part ofthe reproduction of human knowledge by machines. This is the total a technique for machines that is to exhibiting of certain parts of human idea and knowledge.
2. AI Engineers required in various sectors
Artificial intelligence (AI) engineer play with algorithms, do neural networks, and does R&D with other advance tools with the field of artificial intelligence to some extent. Today AI uses in various sectors and AI professionals may work on various types of artificial intelligence in different sectors such as;
Healthcare

Retail
Automobile
Customer care and support
Education and eLearning and knowledge segments
Music, videos and movies
Airlines
Drone
An Artificial Intelligence (AI) engineer is someone who works on AI technology and solutions. It is very vast in terms of learning as well as research and development; engineers also can have choice fortheir specific field between projects involving whether it is weak or strong artificial intelligence along with different setups focus on different capabilities.
3. Technical Skill and Expertise
If you want to choose your career in Artificial Intelligence, you should be a giant in mathematics with good logic mind would be a must.
Bachelor degree in Computer science with good knowledge in mathematics, Or
Bachelor degree in Cognitive science theory
Btech in CS and specialization in AI
Bachelor degree in Physics is also a good option because physics applicants have good analytical and logical ability.
Bachelor in RoboticsEngineering is almost same to Artificial Intelligence or machine learning
Bachelor degree in Mathematicswith good knowledge in algebra, calculus, logic and algorithms, probability, and statistics.
Knowledge of Software development Principles Agile, CI/CD & SDLC and knowledge of CS and Programming also required.
Besides this, applicants must have in-depth working knowledge with following programming languages like the following:
Python is the best choice for Machine Learning and Artificial Intelligence other than languages because it has some advanced ready-made library available to work with AI.
4. Role and Responsibilities
If you are an AI engineer you need to keep your eyes on the following points;
Working closely with DevOps experts to build different ML specific use case. Choosing, extending and innovating ML solutions for various stages and understanding the data pattern from DevOps phases and decide the architecture.
Demonstrated expertise in machine learning ML and building and deploying AI solutions
Familiarity with a broad set of models across supervised, unsupervised and reinforcement learning and ability to innovate on out of the box models.
1 to 2 years researching and practicing on machine learning or AI
tools like TensorFlow, Elastistack and Docker etc.
Great Learning abilities develop and deliver a world class hybrid and online learning programs on Artificial Intelligence and Machine Learning.
Coordination required between Data Scientists and Business Analysts
Automate infrastructure in Data Science and convert machine learning models into APIs so that other applications can access them.
Proper testing and deployed models in a professional way
Automate processes by utilizing machine learning
AI Engineer also responsible on the team that might consist such as:
Make a machine learning algorithm that could be low fidelity prototype photos of whiteboard sketches, or drawn up by the UXD team.Later on this workflow successfully implemented by team and that might save countless of man-hours, cost, resources and number of iterations in changing of visuals.
But this is not easy to describe the role of an Artificial Intelligence Engineer, because AI technology is very latest and young, and every business will have their own specific implementations of creative automation process and practiceswith the optimum goal of positive bottom-line outcomes.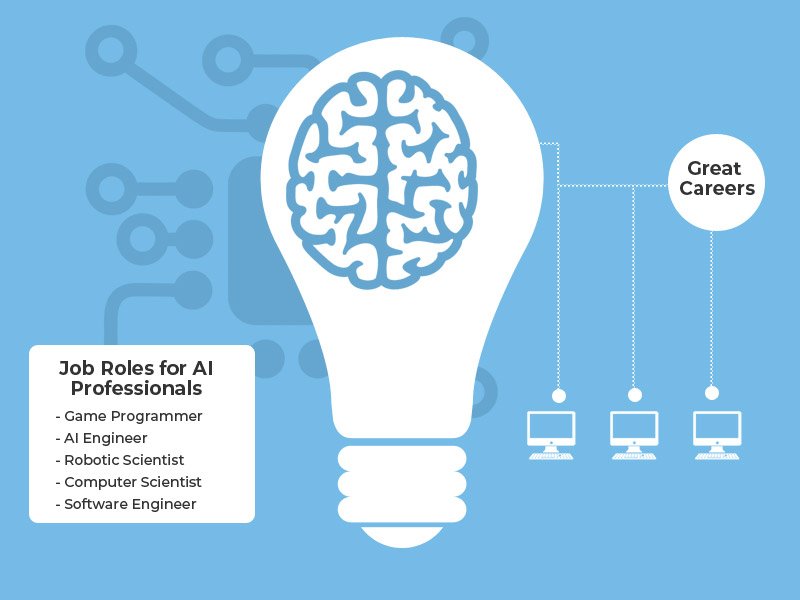 5. Make yourself creative and critical thinker
Machine Learning engineers should have to look at the numbers, trends, and data come to new conclusions based on the research and findings. While you look at the rise of Artificial Intelligence will excitement, robot is the great example to stay in one form or another. However, combining this new technology with the strongest traits of the uniquely human mind offers a world of potential which fully explored.
Make a machine learning algorithm could beiterating or changing on ideas as quickly as possible is mandatory for finding one that works.UX Development is mandatory to everything from picking the right model, to working on projects such as A/B testing, rapid prototyping etc.
6. Best Packages offered in the market
Aritificial Intelligence is totally new to market and have demand, second thing according to demand in the market there are not much available AI professionals now these days.
Many multinational companies with R&D centers in India and abroad including Google, Microsoft, Facebok, IBM and others are paying large salaries + additional incentives. Startup companies may offer higher salaries and interesting work but may not have long-term prospects.
Normal and average salary for an AI Engineer:
- JuniorEngineer's Salary:around $50,000- $80,000
- Average Salary: around $80,000-$1,00,000
- Top and experienced AI engineer's salary: around $1,15,000 - $1,50,000
7. Get a good job in Excellent Companies
AI is the most demanding technology in the market, most of the big companies started their R&D on Machine learning and AI including Google, Microsoft, Facebook, Accenture, IBM, Amazon, Deloitte, Capgemini, IntellectSoft, Nvidia, Aibrain, Banjo are going in this race. Artificial Intelligence deliver everything from pointto point solutions for a single business function to large, long- term outsourcing services, to complex systems integration installations spanning multiple businesses and functions.
Conclusion
Different people think of AI in different ways.Learning and working in Artificial Intelligence is very worth full.
Adopt the rational action view an AI professional takes the best possible action in a situation.
AI has its root in many disciplines more so itis tobuild computational models of intelligence.
Today, AI is very useful especially inhealthcare sector AI robotic technology assist in radio surgery may be other types of surgery soon in near future, they can achieve exactness in all wayswhich humans can't.
By Editorial Team,
UXD Media
Date: 05/09/19